Are you a business owner in the Odessa and Midland area and thinking about having an asphalt paved parking lot installed or resurfaced? Having an asphalt parking lot paved will increase your commercial property's value and help your customers get parked easily. In addition, having a new paved parking lot is a nice aesthetic that can give a great first impression for potential clients.
If you're in the market for a new paved asphalt parking lot in Midland, Odessa, or the surrounding area, we're the asphalt paving contractor for you! We are Midessa Asphalt and when it comes to asphalt parking lot paving, we're the best. We provide high quality asphalt paving services in the Odessa and Midland, Texas area. We understand that every parking lot project is going to be different and that's why from the moment that we first talk with you we work hard to fully understand your goals and needs. 
Our asphalt contractors will work with you to plan out your parking lot to fit your commercial property's needs. With a history of quality work, we would love to help you with your paved parking lot project.
Contact us today to get a free quote on your paved parking lot needs!

Our Asphalt Paving Parking Lot Process
As experienced asphalt contractors, here's what you as a customer should know about paving parking lots.
When you first reach out to us you'll talk with one of our asphalt experts about your specific project. This consultation will be a discussion on the location of your property, the exact needs that you have, and we will talk about the details of what your parking lot will require. 
The second step takes place on the site of your property. An asphalt contractor will look over where you'd like to have a paved parking lot installed and they'll take measurements so that plans can be designed that will maximize efficiency of the space.
Once plans have been made on the dimensions and layout of your parking lot, it's time for the area to be leveled. The location of the paved parking lot will be graded and leveled according to the plan. This is an important step to ensure that proper drainage takes place during rainy weather. A paved parking lot that isn't graded correctly will have water pool up on it that will cause damage with time.

Once the area is leveled and graded, a layer of gravel will be placed on the area and compacted. The compacted gravel is to make sure that the parking lot foundation is sturdy and stable.
Once the gravel is placed over the area, it is time for the asphalt to be poured! Our expert asphalt workers will pour a layer of high quality asphalt. This layer of asphalt is at a minimum two inches thick. It takes some time, but the asphalt will cure into a strong and flexible surface.
The last steps of a paved parking lot installation is striping and painting. We'll paint down parking spots and other parking lot markings that are required. We can make sure that your parking lot is ADA compliant with the right paint markings. It's during this stage that our paved parking lot contractors will take the time to install speed bumps, concrete curbs, walkways, and any other parking lot features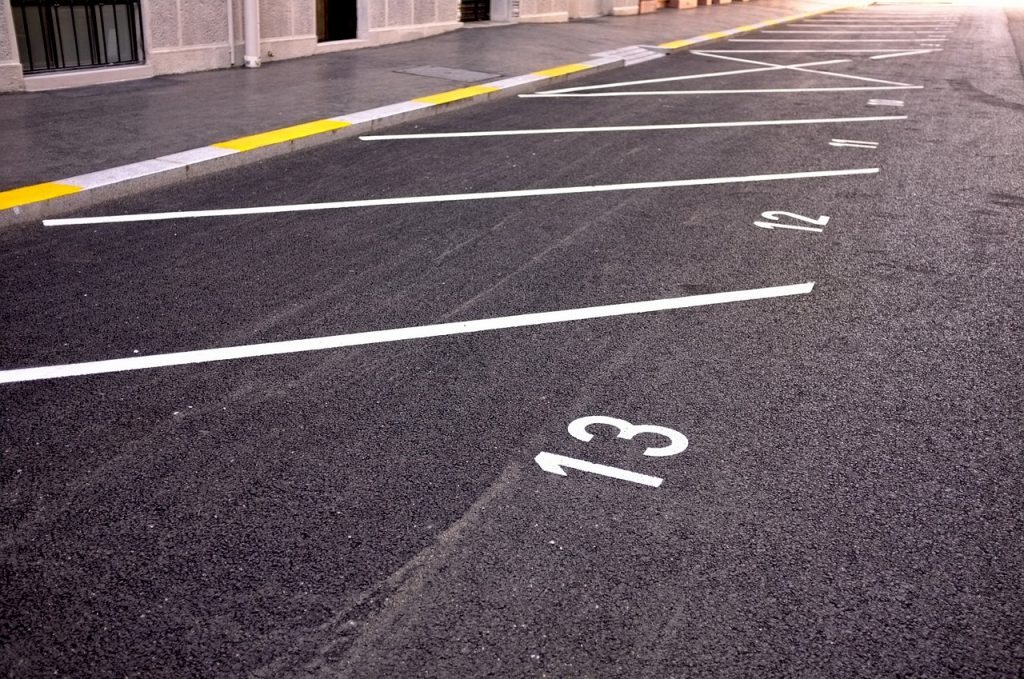 Our Paved Parking Lot Services
With top-of-the-line tools, years of experience, and commitment to excellent service we have helped hundreds of customers with asphalt paving services in Midland and Odessa, Texas. Here are a few of our paved parking lot services and characteristics that we offer.
Paved Parking Lot Drainage
From the very start of working on any new paved parking lot project, we make sure that drainage is done properly. If you have ever been onn a paved parking lot that had giant puddles sitting on it then you know what it's like to deal with a parking lot with bad drainage. The reason for the large standing water is that the parking lot didn't have good drainage. 
If the water has no where to go it will pool up in low spots. Not only is this frustrating for anyone who has to walk through these puddles, but the standing water will dramatically reduce the life of the parking lot.
The parking lots that we install will have a proper drainage system and be graded in such a way that water won't stand on the pavement, but drain off. We want your new paved parking lot to last for a long, long time.
Strong Foundation
One of the areas that we don't skimp on is the gravel base as described above. A paved parking lot that doesn't have a good gravel base is sure to have issues. The foundation is one of the factors that will keep your paved parking lot from developing cracks, divots, and potholes. We make sure that the gravel base is thick enough to give the asphalt pavement the strength it needs to not break down from the weight of vehicle traffic. Our asphalt contractors make sure that the gravel layer is thick enough so your asphalt won't buckle and to ensure that your parking lot has longevity.
We're Dedicated To The Details
We understand that a new paved parking lot isn't only about function. Your new commercial parking lot should look good too, and we take the extra time to make sure it does. Our expert asphalt team has top-of-the-line tools so that all the parking lot edges are shape and that the new parking lot is properly level. We'll make sure you parking lot in West Texas looks great!
We here at Midessa Asphalt want you to be proud of your new parking lot, and so we take the time to ensure that our finished job looks great. From the asphalt, to the curbs, to the parking lot painting we pay attention to the details to make sure it's a job well done.
Wondering if you can have a new paved parking lot installed over an existing parking lot? It is possible, but it is dependent on the condition of the old parking lot. Give us a call and we can discuss whether this is recommended for your parking lot or not.
Offering Paving Parking Lot Services in Midland and Odessa, Texas
We take great pride to our attention to detail for every asphalt job we take on and we want to make sure that you are more than satisfied with the results. We value our customers and our entire team will go above and beyond to meet you and your commercial property's needs. We are available today to talk about your paved parking lot needs! Whether you live in Midland, Texas or Odessa, Texas we are available for your project. We offer free estimates for asphalt paving parking lot projects in Midland, Odessa, and the surrounding areas.
Contact us now for a free quote on a paved parking lot. Feel free to reach out if you have questions or want to learn more about Midessa Asphalt Paving.