An asphalt driveway, parking lot, roadway can last for around 20 years when it has been maintained properly. Regular maintenance includes cleaning off debris, ensuring it drains properly, and checking & repairing any cracks that you find. Cracks in an asphalt driveway that are not repaired in a timely manner will eventually turn into a pothole that in time will turn into an even larger pothole. Regular asphalt maintenance not only will keep your asphalt around for a long time but will also save you money in costly repairs or replacements. This is why asphalt seal coating is one of the most important paving services if you want to keep your asphalt pavement protected and long lasting.
What is Asphalt Sealcoating?
Asphalt is a strong, flexible material that's perfect for roadways, driveways, and more. But over time, exposure to the elements (wind, sun, snow, rain) and regular usage will cause it to slowly break down over time. Oils, grease, dirt, debris, and other chemicals from vehicles and foot traffic can cause asphalt to crack or become brittle.
Asphalt sealcoating is a thin layer that is placed over the asphalt pavement surface for protecting it from the snow, rain, oil, and the sun's UV rays. Sealcoating doesn't fix already established potholes or cracks, but it does prevent this type of damage from occurring. Asphalt sealcoating is a necessary asphalt repair and maintenance process that keeps your asphalt safe from harm, extends its life, and also gives it a fresh look.
When it comes to finding the best asphalt sealcoating business in Odessa and Midland, you don't have to look any further than Midessa Asphalt for your projects. With our extensive asphalt sealcoating expertise and our unrivaled customer service, we are fully capable of handling your paving and sealcoating needs. We've helped many companies and businesses with our quality seal coating services and would be glad to help you too.
But if you're still on the fence about whether sealcoating is important, we have put together five reasons why Asphalt sealcoating is not only beneficial, but necessary for your asphalt pavement.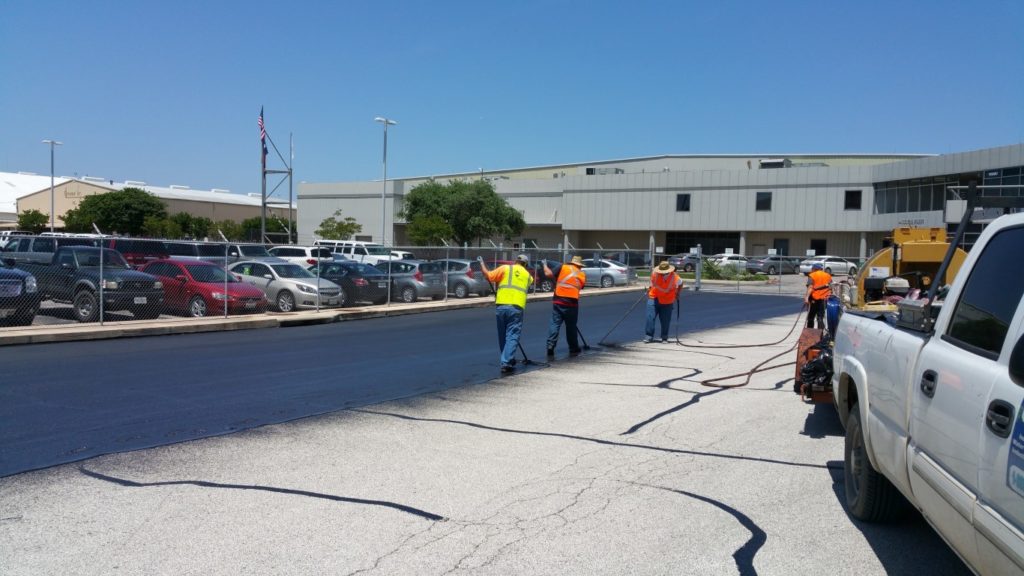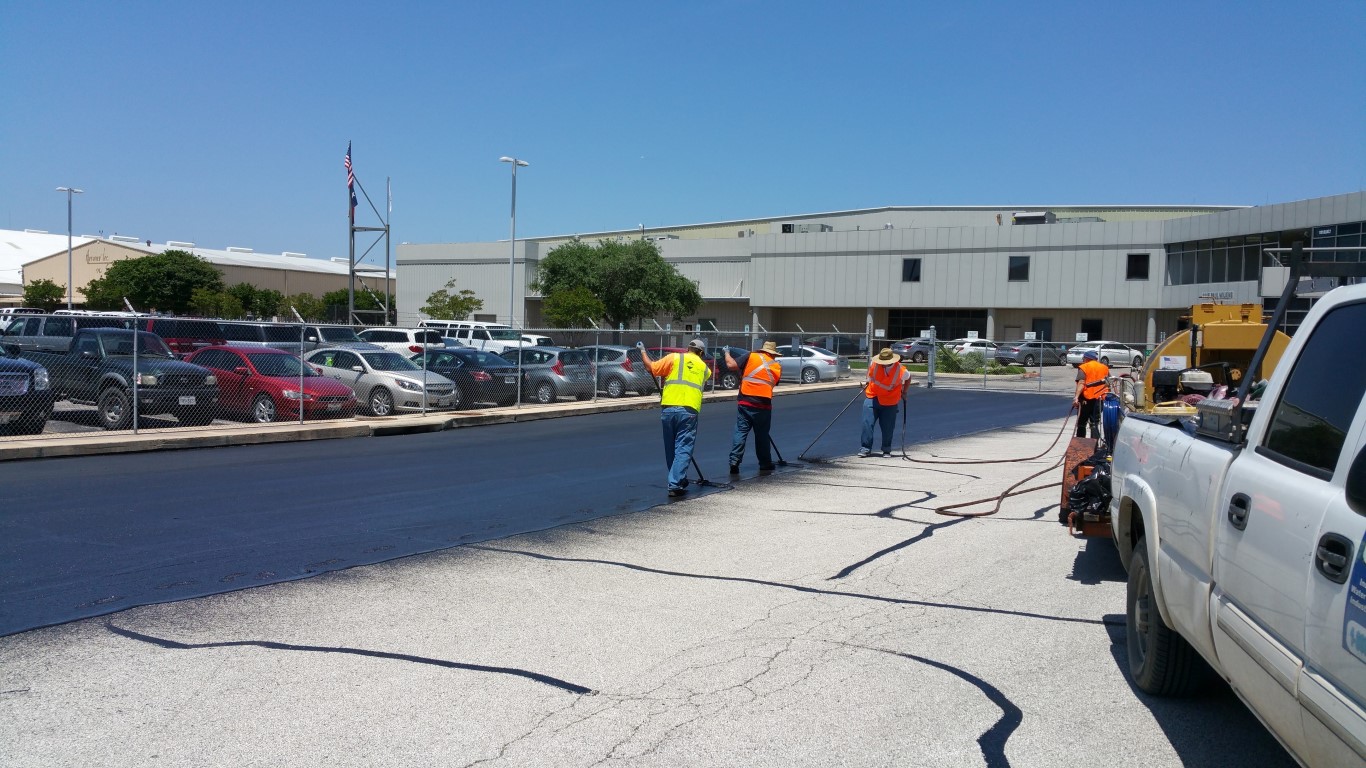 Three Reasons to Choose Asphalt Sealcoating
Slows oxidation
Oxidation occurs from exposure to the air and sun's UV rays. Unfortunately, asphalt pavement doesn't have strong resistance to UV rays. As time passes along, oxidation will begin to deteriorate and slowly break down the "binder" – the glue that holds the sand and stone of asphalt together. Your asphalt will lose oil as oxidation continues and become harder and more brittle. This eventually will lead to cracks which if not fixed can lead to potholes.
Oxidation will speed up the life of your asphalt pavement and so anything that can be done to slow down the oxidation process is important in increasing your asphalt's life. One of the benefits of sealcoating is that it will slow down oxidation. The sealcoating layer acts as an extra protective layer against the sun's UV rays.
Aesthetically Pleasing
The difference in coloring for a new asphalt pavement and older asphalt is noticeable. When an asphalt pavement is first installed it is a deep rich black color, but over time the sun will turn asphalt pavement into a charcoal gray color. While some people don't mind the gray look of asphalt, it might be important to you that your asphalt pavement looks fresh, new, and back to its original color.
Sealcoating can bring back the rich black color back to your asphalt and make it look fresh and new again. Even if there aren't any cracks or damage, sealing can make your pavement look great again. If you're a business owner you know that first impressions are key to acquiring new clients. Sealcoating can boost your curb appeal and make a great first impression as customers arrive at your commercial building. If you're a residential homeowner, sealcoating will not only make your asphalt look beautiful again, but could also increase the value of your home.
Guarantees Longevity
All asphalt pavement has a limited lifespan to it. Whether you have an asphalt driveway, parking lot, roadway, etc. it won't last forever. The lifespan of your asphalt depends on how much use it receives, the weather, and a few other factors. By sealcoating your asphalt, you can increase the lifespan of your asphalt. Your driveway, parking lot, or road will last significantly longer after it has been sealed since it will be protected from the sun's rays and other elements.
How often should you sealcoat your asphalt pavement?
You should have a paving contractor sealcoat your pavement every 2 to 3 years. The number of years will depend on the amount of car traffic your asphalt gets, and also the environment that it is in. You should also know that asphalt must be in good condition before seal coating can be done. If your asphalt has potholes and cracks they must be repaired before seal coating. If you're unsure if your asphalt pavement should receive a sealcoat, give us a call today and we can help you assess.
We're Ready To Sealcoat Your Asphalt Pavement in Midland & Odessa, Texas
We provide seal coating services for Midland, TX & Odessa, TX, which will extend the life of your asphalt roads and parking lots. If you've got aged and worn-out paving, our selected mixes will help reduce damage and rejuvenate your paving. Not only will it extend your life, but also give your pavement a more finished, professional look.
Every asphalt project is different when it comes to asphalt driveways, parking lots, or roadways. This is why Midessa Asphalt Paving takes the time to assess your project, your property, and talks with you to understand your needs and goals. From the moment we first talk, we want to ensure that you fully understand and choose the right asphalt services that meet your asphalt needs. Our team of asphalt experts and paving contractors will work with you to identify exactly what you need and then we can get to work implementing those residential paving or commercial asphalt paving services.
We are an asphalt paving company that prides itself on attention to detail and we want to make sure you're completely satisfied with the results. From our customer service team to our asphalt paving contractors we go the extra mile to meet you and your residential paving needs. Not only do we offer seal coating, but we also have state-of-the-art tools & expertise in working with recycled asphalt, driveway paving, paving parking lots, commercial paving, and other asphalt services. We're a company that has been around since 1994 working with residential and commercial clients.
We're available to talk today about your residential or commercial sealcoating needs! Contact us today to get a free quote for asphalt seal coating and schedule an appointment for asphalt repair or seal coating in Texas.
Want to learn more about Midessa Asphalt Paving? Contact us now for a free estimate or to learn more about our asphalt paving company in West Texas. Our contractors and crews are covered by full insurance to maintain the highest quality tier of general liability insurance.
We're available to do asphalt repairs and paving services for Midland Texas, Odessa, and the surrounding area.